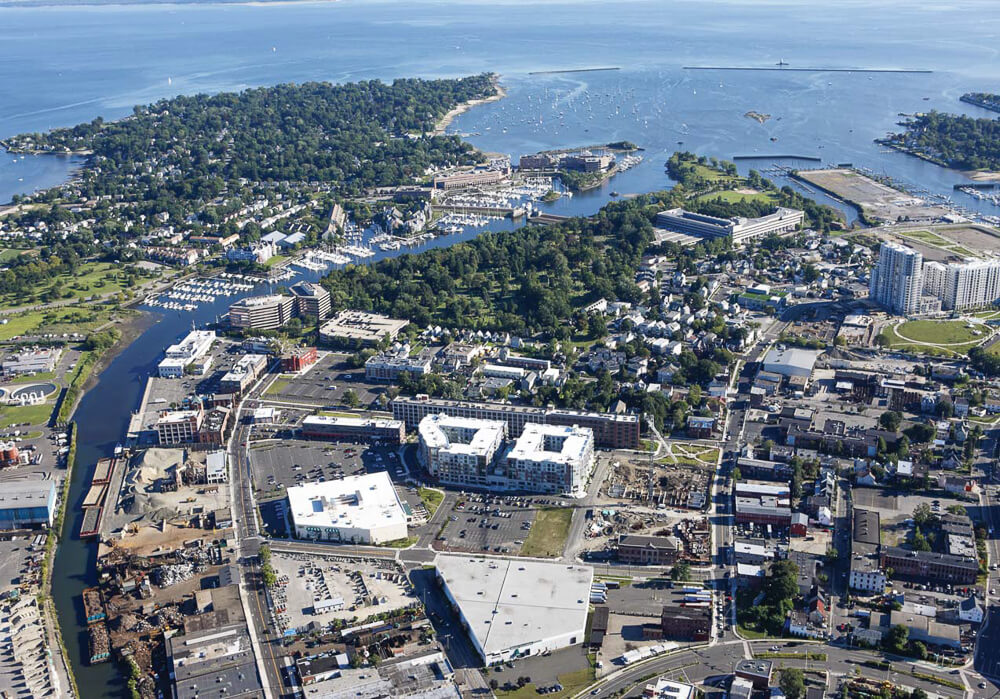 New Owner of Harbor Square in Stamford Sees Potential
When Doug Winshall visited Stamford in 2007 and saw a collection of four brick commercial buildings overlooking the east branch of Stamford Harbor, he saw their potential and knew they would be a solid addition to his company's real estate portfolio.
But Winshall, managing principal of ClearRock Properties in New York City, also realized that he had to be patient and wait for the right price for the portfolio of properties at 700, 850, 860 and 880 Canal St., also called Harbor Square.
"In 2007, the prices got way too high, but we kept an eye on the market there," said Winshall, who tracks listings of non-performing commercial loans on various websites. "When the nonperforming loan came up, we jumped at the chance."
ClearRock purchased the non-performing mortgage in May and, working with the seller, First Niagara Bank, recently completed foreclosure proceedings. Winshall would not discuss the acquisition price, saying only that it was below market value.
According to public records, in 2007, when Antares SHS acquired the properties, the prices for 850, 700 and 880 Canal St. were $16 million, $15 million and $4 million, respectively. The price for the fourth building, 860 Canal St., was not listed.
ClearRock completed a friendly foreclosure for three of the buildings, 850, 700 and 880, but because of lingering problems regarding the building at 860, the company had to complete a strict foreclosure through the courts for 860 and put an allocation price of $6.9 million on that single property, which Winshall acknowledged was a fraction of the overall cost for all four. Since ClearRock bought the debt for the properties and foreclosed on that debt, information regarding the transaction is not on public record.
Impressed by progress made by Building and Land Technology's neighboring 80-acre Harbor Point mixed-use development, Winshall didn't wait for the purchase of the mortgage to enter the Stamford market. Before acquiring the buildings, his company last year bought 1 Dock St., in the same district. Winshall has been pleased with the results.
"We've done very well with it — the leasing velocity, activity and pricing," said Winshall, adding that lease rates are in the low-$30 range. "It was 80 percent leased when we bought it, and now we're literally 99 percent leased." He estimates that the lease rates for the four newly acquired properties will be in the same range after improvements are made. Historically, the rates have been in the $20s per square foot, but Winshall said the changes will warrant the increase.
ClearRock has hired MKDA, an architectural firm with offices in New York City and Stamford, to design the renovations.
The first building to be addressed will be 700 Canal St., an 85,000-square-foot structure that is about 50 percent leased.
"It's got great bones, with its old-loft style. We're moving forward on that one as fast as we can," said Winshall, commenting that the tenants, including Eclisse Restaurant, will not have to vacate. Other major tenants at 700 Canal St., include Beeby Clark, Love Sac and United States Beverage.
Built in 1990, 850 Canal St. totals 70,000 square feet and is the newest of the structures. "It's well leased. The accounting firm McGladrey & Pullen is a major tenant, and the passport office just moved in. We have some vacant space on the first floor."
Cornell University operates a veterinary hospital at 880 Canal St., fully occupying the building.
But big changes are anticipated at the 90,000-square-foot building at 860 Canal St., which is about one-third rented.
"Our plans for that building are uncertain. That building will probably be emptied out at some time and undergo extensive work. We're honoring all of the tenants' leases," Winshall said, projecting that work will start in 2013 or 2014.
Plans call for the architectural and mechanical improvements without altering the appearance of the buildings.
Playing a key role in the refurbishment will be staff at Albert B. Ashforth, who will manage the eight acre complex.
"We're thrilled to be awarded this management assignment and to be part of this exciting and challenging repositioning project," said Brian Heelan. senior vice president and director of operations of Ashforth's management division. "With the new improvements and being located in the dramatically transformed South End, Harbor Square will be a very attractive place for
businesses to relocate."
With a comprehensive marketing plan, touting the proximity to the Stamford Transportation Center and mix of new residences, restaurants, stores and corporate offices at Harbor Point, Winshall is optimistic that ClearRock's new properties will quickly fill with tenants.
"It's a good location. It's hard to imagine that those buildings are not going to be successful," said Jack Condlin, president and chief executive officer of the Stamford Chamber of Commerce. "With its location, it's part of the South End and part of downtown. They've got the best of both worlds."