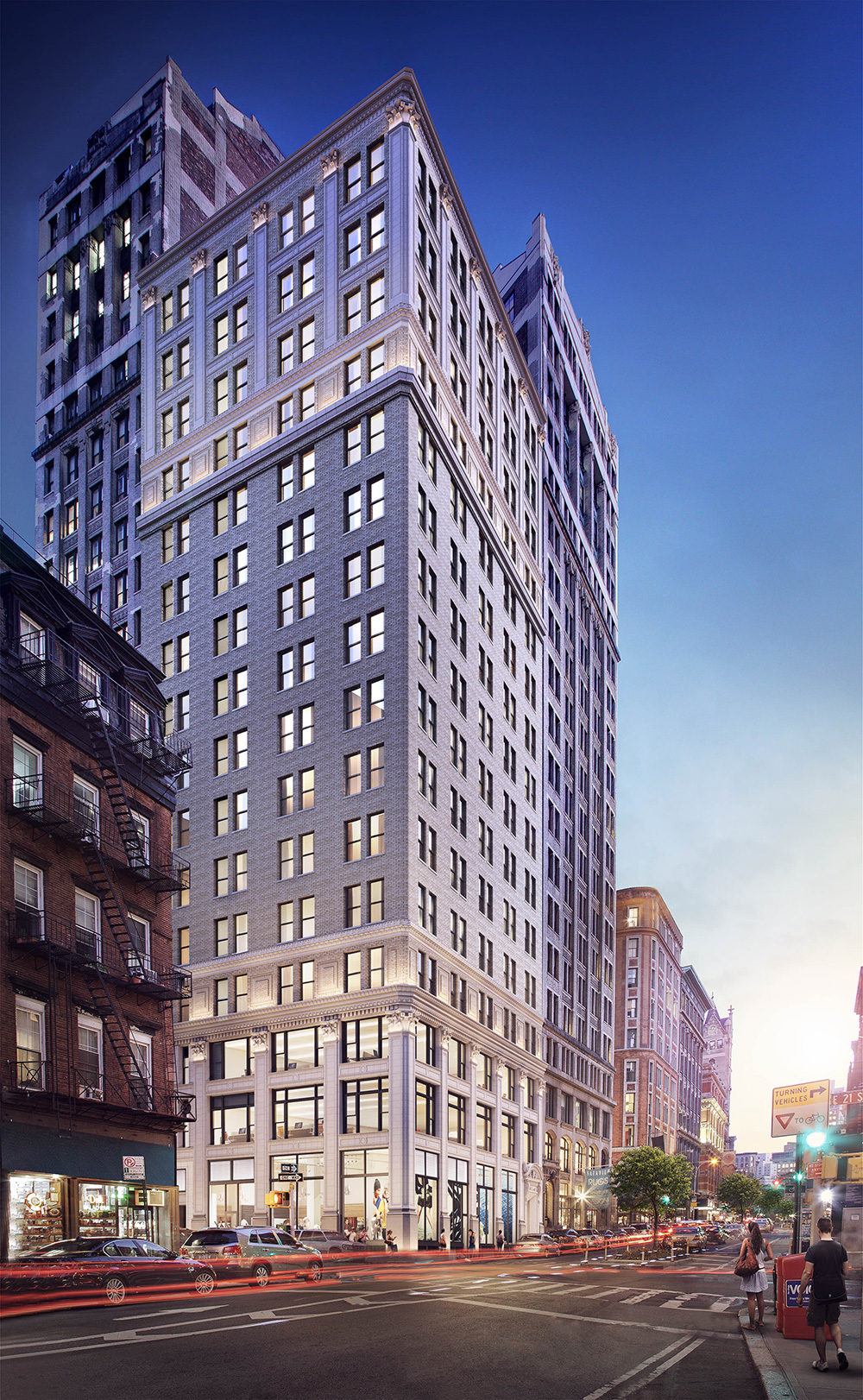 KLM Buys Broadway Building with Old Navy Sale Profits
No bell-bottom blues for family controlled KLM Construction Corp., which has taken profits from its Old Navy sale and rolled them into the $120 million purchase of 920 Broadway on the northeast corner of East 21st Street.
The Broadway building of 110,000 square feet was sold by Carlyle and Clear Rock through Douglas Harmon, Adam Spies and Adam Doneger of Eastdil Secured to KLM for a neighborhood record of $1,100 per square foot.
The same Eastdil team just sold the Old Navy site at 150 W. 34th St. for KLM to Starwood for $252 million. Knowing KLM needed a 1031 tax exchange; they approached Carlyle and made them the offer they could not refuse.
Market asking rents on that Midtown South Broadway corridor are running $75 to $85 per square foot for the boutique-sized floors, and the building is expected to receive a capital improvement program.
The Section 1031 exchange allows sellers to shelter gains by investing in other properties — often with an eye on improvements. But there are now discussions in Congress about dumping this well-used program that are riling up the real-estate industry. You, too, should be riled up, even if you only own a small vacation rental.
Bottega Veneta is considering a lease for at least part of the Wildenstein family's sprawling townhouse at 740 Madison Ave., we have learned. The roughly 30,000 square-foot building once had retail stores plus 14 upstairs apartments. It is now vacant and in the midst of being fixed up.
The family recently agreed to sell its 19 E. 64th St. townhouse next door to Qatar for over $90 million, and it is yet unclear if they will move their own gallery to a portion of this building or elsewhere.
Bottega Veneta, owned by Kering, is known for its luxury woven leather goods carried by celebs from Jennifer Aniston to Reese Witherspoon. It has a store next to the St. Regis on Fifth Avenue. But the space was purchased in 2012 by rival luxury goods company, Richemont, as part of a larger, astounding $375 million deal that came to $15,100 for each of the 24,800 square feet.
Richemont is the parent of brands that include Cartier, Mont Blanc, Van Cleef & Arpels, Piaget and Vacheron Constantin. At the time, we noted they could eventually buy out or wait out the current leases before moving in their own brands to the St. Regis spaces. That time may have come.
Bottega Veneta is no stranger to Mad Ave. It has a men's store at 23 E. 67 St. and a women's store at 849 Madison between 70th and 71st streets. In March, its CEO told Reuters he wanted to expand the offerings in its current stores without opening too many new ones.
"It's a really important corner for Madison Ave.," said Matthew Bauer, president of the Madison Ave BID, who was unaware of the possible deal at No. 740 for Bottega Veneta. "They are a great brand and would enhance that area if they open in what is now a vacant building."
Calls to David Wildenstein and their brokers at Cushman & Wakefield were not returned. In an e-mail, Bottega Veneta's spokesman said, "We are looking at various spaces but have not confirmed anything at this point."
Another deal that will surely shake up Madison is the possible Apple transaction, first revealed by WWD, for the neo-classical former bank building at 940 Madison at East 74th Street where VBH and David Webb now have stores. Stay tuned.
Congratulations to the winners of the Real Estate Board of New York's prestigious 2013 Ingenious Deal of the Year Awards that were announced last night.
Mary Ann Tighe and Gregory Tosko of CBRE took home the first-place Henry Hart Rice Award for "Jumpstarting the Future: Coach Buys into Hudson Yards." This is Tighe's seventh Ingenious Deal of the Year Award, and Tosko's sixth and was for the Coach purchase of new office space and sale of its current headquarters.
David A. Green of Cushman & Wakefield was presented with the second-place Robert T. Lawrence Award for "The Improbable Master Lease of the Retail Spaces at 650 Fifth Avenue." This involved the US government taking over the Iranian-affiliated ownership of the building and the court order allowing the retail to be leased by SL Green Realty Trust and Jeff Sutton.
M. Myers Mermel and Caroline McLain of TenantWise took home the third-place Edward S. Gordon Award for "Air Equal to Land: The Sale of Air Rights from 520 Park Avenue." In their six years of representing Christ Church, they obtained a sky-high price for air rights at the tony address, enabling the Zeckendorfs to develop an upcoming tower.
Another garage could soon turn into high-priced rental apartments. Two interconnected garage buildings midblock at 267-273 W. 87th St. are now being offered through Neil Helman and Charles Kingsley of Avison Young.
We hear the expected starting rent for the site will be in the low $20s per square foot for each of the 100,000 square feet of possible new development. There is plenty of light and air to be had, but because it will be long-term leased, it cannot become a condominium. Cooperatives, rentals or even a school or other facility could become the end user. The brokers did not return requests for comment.