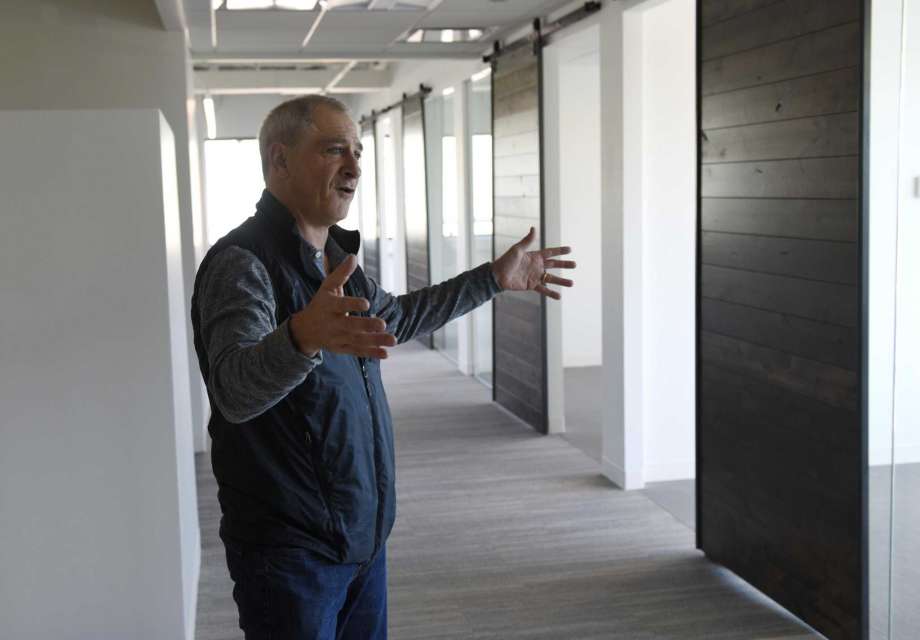 South End office renovation finds inspiration in neighbor
STAMFORD — The office complex at 850 Canal St. has a blueprint for its renovation — the building next door.
The fully occupied business hub at 700 Canal St. figures prominently in the overhaul of the 850 building because a three-firm consortium owns the two brick-facade properties and another neighboring structure. While 850 recently lost its largest tenant, the owners said they are confident that multimillion-dollar improvements and a recruitment strategy that mirrored the turnaround of 700 will help them to quickly fill the space at 850.
"They're sister buildings — together they are really a campus," Doug Winshall, managing principal of co-owner ClearRock Properties, said during a recent tour of 850 Canal. "Both are targeting small and midsized tenants."
Renovations of the approximately 70,000-square-foot building at 850 started around the same time as the July relocation to downtown of professional-services firm RSM, which occupied nearly 30,000 square feet. On the third floor, where RSM had about 9,000 square feet, the owners have subdivided the space into three office suites.
New tenants at 850 Canal would likely take between 1,500 and 10,000 square feet.
"We did a bunch of pre-builds (of offices) at 700 Canal St., which were very successful, so we carried that same concept over to 850," said Julia Lindh, co-founder and executive managing director of Stamford-based design firm MKDA Stamford, which served as the lead architect in the renovations of 700 and 850 Canal St. "The hope is that the smaller tenants will find them very effective and just 'plug in and play.'"
Other building improvements at 850 Canal included upgrades to the parking lot, plaza, elevator cabs and lobby and an updated layout to better differentiate between the commercial offices on the upper floors and the U.S. Department of State's passport center on the ground floor.
Occupancy at 850 Canal St. now runs at 75 percent. Among recent deals, shipping firm BRS signed an eight-year lease for 6,800 square feet on the third floor. TV production firm ITV America and financial-services firm GMP Securities also lease space in the building.
The ownership group, which took over the properties in 2012, hopes 850 Canal soon matches the 97 percent occupancy rate of 700 Canal St. The approximately 90,000-square-foot 700 building was renovated and largely leased up by 2015.
A Serendipity Labs co-working center, which opened last year, comprises the largest tenant. In August, Serendipity announced it would add another 9,000 square feet to its initial 13,000 square feet.
"We've beaten our plan to get membership where it needs to be, and we thought it really made sense for us to expand," Serendipity Labs founder and CEO John Arenas said in an interview earlier this year.
Among other recent arrivals at 700 Canal, the casual dining establishment The Granola Bar debuted in May.
"This is an up-and-coming area," Granola Bar co-owner Julie Mountain said earlier this year. "It's got youth, it's got families, workers and health-conscious people."
Other tenants include financial services, media and technology firms.
A third building in the complex — the vacant 860 Canal St., which totals about 90,000 square feet — is set to redeveloped.
The ownership group — which also includes Gottesman Real Estate Partners and Mountain Development Corp. — is working on a deal for 860 Canal and said it remains committed for the long term to its trio of Canal Street holdings.
Winshall said the owners like the buildings' proximity to the mixed-use Harbor Point development and accessibility to the downtown Metro-North station.
"We hope the South End continues to grow," Winshall said. "We'll play our part."
[email protected]; 203-964-2236; twitter: @paulschott